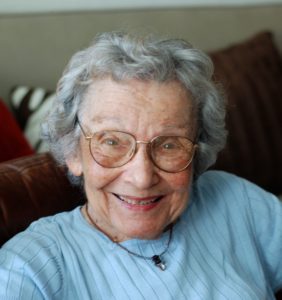 The Boston March for Women was hardly the first protest Lillian Savage had ever attended. It was, however, the first one she joined at age 96.
A lifelong activist and former high school history teacher, Lillian knew the moment that the protest was announced that she was in.
  "How else could I show my dissatisfaction?"
Like the other 174,999 other people who ascended on the Boston Common on Saturday, January 21 (and the millions of others across the globe), Lillian has been very disheartened by the recent presidential election.
"Throughout my life, I have attended marches. They provide a catharsis when there are issues that demand a response."
Lillian asked others who lived in her senior housing building whether they too wanted to attend. There were 15 others who said yes.
These weren't the only people interested.
"I felt badly for all the others who wanted to be there but could not because of some infirmity. Who would hear their voices?"
Lillian's only hesitation about the March was whether she had the endurance that a large crowd and a long day would require.
"My entire life, I've had endless energy. But these days, I take a few steps and I need to rest."
Lillian's ever-present resourcefulness kicked in. Knowing that the subways would be overflowing with marchers, she contacted the MBTA's para-transit service, The Ride, which provides door-to-door van service to those who require assistance. Their friendly customer service representative was immediately receptive. Yes, their vans could pick up the seniors at their residence and drive them to their desired location. It took three vans to accommodate the group, and they brought their passengers directly to the Common.
Lillian decided that it would be wise to bring her walker along. When she heard that The Ride would gladly accommodate her walker, Lillian was rearing to go.
"My walker has a seat on it so I knew that could sit down at any time. Most of the time at the March, I stood, but having the walker gave me a secure feeling."
The first march that Lillian attended was in 1948 in support of Henry Wallace's presidential run.
"The campaign was ugly. He had been Secretary of Agriculture under FDR, but he was being cast as a communist. It was a smear campaign."
 Since then, Lillian has marched for nuclear missile bans, children in poverty, and a host of political candidates. She recalls the 60s as a particularly active time.
"Right from the get-go, I was out there holding signs and doing whatever it took to end the Viet Nam war."
 Lillian has been as politically involved as one can be, short of personally running for office. As a resident of Sharon Massachusetts, she has chaired the Democratic Committee for H. Stuart Hughes' run for the United States Senate and for Evelyn Murphy's gubernatorial campaign run.
Her proudest political moment came during the 1972 presidential election. Lillian was one of the 117 delegates selected from Massachusetts to attend the Democratic Convention in Miami Beach. Together with her cohorts, they cast 13 of Senator George McGovern's 17 electoral votes. In response to this painful defeat, the delegation created the slogan "Don't blame us. We're from Massachusetts!"
For over 40 years, up until age 85, Lillian taught in the history department at Sharon Public High School. When she began in 1969, she was the department's first female faculty member. Her vast range of subjects included women's history (for which she wrote the curriculum), black history (again, she authored the curriculum), the Holocaust, Native American history, Russian history, cultural anthropology, and more.
It was important that her students acquired an understanding of the political arena. She brought special guests into her classroom, including John Anderson, who ran as an Independent for president in 1980, and Evelyn Murphy. She also led her students in a boycott during the Viet Nam era. Rather than attend classes, they sat outside and discussed the morality of war.
The Women's March lifted her spirits, but Lillian recognizes that there is much more work to be done. She and her friend have joined together to follow all the follow-up directives set out by March organizer Kim Whittaker. They have already begun Step One. The women purchased 200 postcards and intend to set up a table in their building weekly to invite fellow residents to write to their legislators. While they are supplying the addresses for the Senators and Congressman, they have decided not to provide suggested language for the cards.
"We want people to express their own feelings. I know for my cards, I want to say that I support my legislators and trust that they will do the right thing."
Lillian's decision to participate in the March has received much attention, including a page-one photo and story in the local newspaper. She is astonished that, at age 96, people seem so surprised and excited that she marched. She is uncomfortable in the limelight, and she is baffled that people would assume that as an older person, she would want to sit back.
"At every age, people have the need to express their opinions."
Read more about Lillian Savage here.