Welcome to Acting Our Age: Women's Lives at 85+, a blog that places the spotlight on some truly remarkable people.
This is a forum to celebrate women who have lived through decades of significant change.  Some recall their mothers marching for the right to vote. Others have daughters and granddaughters who may one day occupy the Oval Office.  As they reflect on the past, share insights about the present, and consider the future, we have the unique opportunity to be inspired by their ability to live and age with grace, grit and humor.
---
Here's what our readers are saying about Acting Our Age:
"This is a wonderful collection of inspirational stories of women making the most of their lives in every way and in every long lived year!"  Caren 
"Your blog is a little like a virtual grandmother or mother inspiring and comforting you with her stories."  Lily
"This blog is giving seniors a voice. In turn, we need to listen."  Maxine 
"I feel like now I know these wonderful women and would welcome them into my life!"   Roberta 
"My children and grandchildren have shared [the post about me] all over the world!"  Anastasia
We invite your thoughts in the comment boxes on the right side of the screen on each post.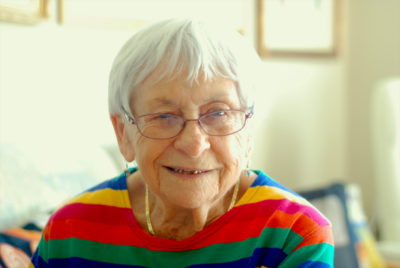 Like many Jews who grew up in Germany in the 1930s, Esther Adler has had a lifelong mission. Having been among those who survived the Holocaust, she... READ MORE
Fittingly, 90 people attended Shirley Horblit's 90th birthday party. She was delighted that family and lifelong friends joined in the celebration. What was most remarkable were the numbers of... READ MORE