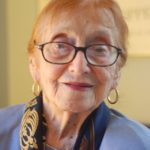 Meet Muriel Baumwoll. She is proud to be one of Boston area's newest residents.
Her decision to leave New Jersey and move to Massachusetts was a long time in coming.
" They [her son Bob and daughter-in-law Martha] asked me three years ago to move in with them. I kept saying 'never, never'. Then, I said yes."
Her reluctance was understandable. Life in New Jersey was good. She lived near her younger son and his family, and they frequently enjoyed meals together. She had good friends and, better still, some shared her love for playing bridge.
Even when she began to encounter age-related challenges, Muriel maintained a positive, determined mindset.
"I got myself an electric scooter and rode it out the door of my ground level apartment. It was a straight shot to the supermarket. I hung all the bags on the handlebars. It was great!"
Gradually, however, mobility – or the increasing lack of it – became the deciding factor. Muriel was finding it difficult to walk unassisted. Her inability to easily manage stairs and curbs posed particular barriers.
"Old age started taking over. My life was eroding. I knew at some point I was going to need to move. I realized that it would be wise to do it while I was still independent and able to build a life for myself."
Moving in with Bob and Martha was an alluring proposition. They planned for it wisely with several open conversations about what life would be like under one roof. Each determined that it was viable. Also, Muriel's daughter and family were nearby. They, too, were eager to have more time together. And, the fact that Bob was a retired internist, added a solid dimension of security.
"Bobby wants to take care of me, " Muriel says with a smile.
It's no surprise that Muriel's children are so devoted to her well-being. She and her late husband Mort created a household infused with love and respect.
"In our life, home and hearth always came first."
No one can minimize the ordeal that someone at age 93 is likely to experience when closing up shop in one state and acclimating to the newness of every facet of life hundreds of miles away. Yet, when you see how radiant Muriel is in her new digs, it seems like this choice was a no-brainer.
Muriel's new abode is on the second floor of Bob and Martha's colonial-style house on a leafy suburban street. The stairway to her room is lined on one side with bookcases. An electric stairlift has been installed on the other.
Muriel's room is airy and bright, and like everywhere in the house, it's easy to find a comfortable place to sit. Its décor is eclectic, combining the select items that she brought from New Jersey and the treasures from her kids' attics.
The large room has a cozy corner with a TV. Here's where Muriel can indulge in her love for the steamy romance movies from the '40s.
She also has an eating area that is well equipped with a table, microwave and small refrigerator. The choice is hers. Muriel can put together a light meal in her room or join the bevy of activity in the kitchen downstairs.
Muriel has settled in fully. She says that's been easy given that her family treats her like royalty. And, she was delighted to learn that two of her special New Jersey friends have also recently moved to the Boston area. They, too, are here to be closer to their families.
Muriel is open to developing new relationships. Fortunately, she has found that the aging process has diminished any self-consciousness of an earlier age. Meeting new people these days requires little effort.
"Bobby found a bridge game for me in a temple nearby. He drove me over, and I walked in all by myself. I didn't know a soul. I couldn't have been that brave 10 years ago. I use to worry that I'd be rejected. Now, I just say 'what the hell.' "
Muriel shares another example of the upside of aging.
"I'm more at peace with myself these days. A few years ago, I never would have used a cane when I needed one. Now I look at it and think, 'if a cane can help me, I'm lucky.'"
Muriel finds that in her 90s, she is experiencing a refreshing sense of contentment.
" I don't feel the need to have a sense of purpose these days. I worked hard throughout my life. I wanted more schooling, and I went after it. When I was in my 40s, I got both a bachelor's degree and a Master's degree in Library Science. I wanted to work with kids, and I did. I taught the children in Elizabeth, New Jersey how to use a library and how to enjoy books.

Now, all I want is to enjoy my kids, my grandkids, and my great grandkids."
Our conversation is briefly put on pause as one of Muriel's delightful distractions enters the room. Martha steps in, holding Muriel's great-grandson Shaffer He has a treat to deliver – a box of Muriel's favorite cookies. Muriel gives him a big hug and in return for his gift, she offers him a cookie. He is momentarily bashful when he sees me. He has no idea who is talking with his bubby.
He doesn't accept the treat. Muriel assures him that she will save it and he can come back later to get it. When Shaffer realizes that he is about to exit the room empty-handed, he shakes off his shyness and grabs the cookie.
This was a sweet interaction. Opportunities for similarly spontaneous hugs are frequent. When Bob and Martha graciously opened their house to Muriel, they knew that everyone's life was about to get richer. It's evident that their expectation is fully on target.