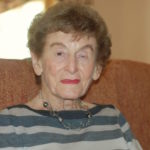 After spending a morning with Shirley, you too might want to be 92. 
"I'm happy to tell everyone my age. I think it's so exciting."
 Shirley has good reason to feel pleased and proud. She knows it takes great resilience, positive thinking, and considerable luck to reach this milestone.
Shirley did not always have this self-assurance about aging. She describes her 70th birthday as a watershed. She needed to take a deep breath and acknowledge that she was entering a new life phase.
"I experienced 'decade shock'. You know, when the first number in your age increases."
When she celebrated the birthday that ended her 80s and started her 90s, no deep breath was required. Shirley probably glanced at her watch and hurried off to her next adult education class, bridge game or film screening.
This hardy appetite to pursue all that life has to offer has been Shirley's consistent modus operandi. To an observer, it is unclear whether Shirley identifies what she likes and goes after it, or remains open to all that unfolds before her. What is certain is that she will become fully immersed and approach the activity with her own brand of gusto.
So far, aging has posed few lifestyle changes. Shirley notes some reduction in her energy level. Close friends might concur, but it's doubtful that this would be noticeable to anyone else. Even from a sitting position, Shirley communicates motion. If today she is experiencing a decline in energy, one can only assume that 20 years ago, she caused entire rooms to shake.
Shirley's optimistic perspective seems well intact. She has outlived two husbands, yet continues to savor the immense joy that these marriages offered.
"It's lucky to have even one wonderful relationship in your life. I've been so fortunate — I've had two wonderful marriages."
 These days, there's considerable conversation about people "reinventing" themselves and embracing change. This lingo may be trendy, but the concept describes the journey that Shirley traveled for the past nine decades. She has made at least three substantial moves in her life. She left the east coast for Los Angeles soon after she was married for the first time. She raised her two daughters in Los Angeles and then returned east. She first resided in New York's Westchester County and, after the death of her second husband, moved to Stamford Connecticut.
Just three years ago, at age 89, Shirley crossed the country and once again became an Angelino. While she had been on the east coast, southern California had experienced a dramatic level of urban development and an unrelenting surge in snarled traffic. Her former community – Brentwood – had thankfully experienced only minimal transition. When Shirley moved back, she enjoyed a smooth homecoming.
An ever-present focus in Shirley's life has been her work, both the paid and unpaid variety. She spent several accomplished years in the workforce, including as a project director for a market research firm. Shirley also explored the world of non-profit organizations, serving as a dedicated volunteer. It proved to be an excellent fit. Shirley did not need the motivation of a paycheck to feel a high level of commitment and engagement.
 "In the volunteer world, there were no barriers to keep me back. I was able to go far."
Shirley consistently rose to leadership positions, utilizing her outstanding management skills.
One of Shirley's most satisfying volunteer endeavors was with the Los Angeles chapter of the Girl Scouts. She oversaw the activities of 40,000 girls and 10,000 women, an operation that was the size of a robust corporation!
Despite a genuine love for each of her paid and non-paid, Shirley has a twinge of regret that she never had the opportunity to earn a Master's degree in business administration. If her mother's sister Rae had not been an outspoken ally, Shirley may not have had the chance to enjoy the richness of a college education. Rather than head to Katherine Gibbs to train as a stenographer, Shirley earned her B.A. at Wellesley College, an experience she savors by attending reunions every five years, including her 70th in 2015!
Shirley readily acknowledges the many blessings in her life, including her extraordinary good health. She urges other women who similarly enjoy this good fortune to face aging without trepidation.
"Take everything as it comes. If you have problems, you'll cope."

 "Don't stay home and wish you were younger. Act your age."
"If you are physically healthy, you can't sit around and complain. Just enjoy life!"