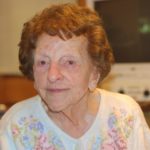 It's fortunate that Blanche's kitchen table is sturdy. She's a big believer in expressing her gratitude by "knocking on wood." With so many aspects of her life going in her favor, there's a lot of tabletop tapping taking place.
She knocks on her table when she acknowledges her good health. She taps it when she describes her good fortune to find reliable and kind tenants for her multi-family home.
When she mentions her son Leigh, the table knocks are non-stop.
"My son takes such good care of me. He's so worried about me. I don't know what I did to deserve such a wonderful son."
 Blanche ably putters around her apartment. She welcomes me into her kitchen and offers cake, pie, and cold drinks. Not until she holds up a roll of wax paper and asks whether it's aluminum foil am I reminded that she is blind. Her self-reliance is much more apparent than the severe vision loss that turned her world upside down nearly 20 years ago.
Blanche loved being in the workplace. She had attended Fischer College's two-year program right out of high school. After graduation and several jobs, she was hired for a highly responsible position as the office manager for a company that owned a slew of community-based movie theaters. She was every CEO's dream – a manager who ran her own ship and got the work done. If she could go back to work today, she'd already be buttoning her coat and be on her way. But when her sight began to fail, she was forced to retire in 1998.
While at work, Blanche was introduced to the world of technology. Today, that interest continues to grow. Twice a week for the past 12 years, her computer tutor Phil comes to her house. There is always something more to learn. He has helped her learn to use the sophisticated programs for the vision impaired.
 "I love technology. Actually I like everything…except housework!"
Blanche's organizational acumen is extraordinary. She's at the helm of a crew of people who come in and out of her apartment on a regular basis to provide a firm safety net. In addition to Phil, there's Rose and David who each come twice a week to help with paperwork and various chores around the house. Every other week, a homemaker does the housecleaning, not only because it is Blanche's least favorite activity, but, because she can no longer see where the dust gathers.
When her doorbell unfailingly rings at 11 am, it's the friendly Meals on Wheels driver with an entrée that will be Blanche's dinner. On several Fridays a month, a volunteer from the Newton Public Library arrives with a smile and an armful books on tape from authors that Blanche has selected online.
Fortunately, she has a hairdresser who understands that it's difficult for Blanche to travel to the salon. When it's time for color or a trim, her beautician makes a home visit with all the necessary accoutrements.
Many of Blanche's helpers assume multiple roles. The Meals on Wheels delivery man grabs the contents of her mailbox and delivers it along with her meal. Her computer instructor loads her freezer with ice cream. With a mischievous smile, she explains.
            "Some days, all I want to eat are frappes. It's ok – I'm 95!"
Leigh is an essential part of the operation. In addition to thoughtfully stocking her freezer with various prepared dinners, he supplies the goodies that Blanche offers to those who make her life manageable.  Blanche's helpers are her neighborhood, and she is always grateful when they have a few minutes to chat over coffee.
Blanche's vision deficits do not deter her from knowing what's happening in the world. A CCTV, a large unit that resembles a desktop computer, is set up in her kitchen. It magnifies the text so that Blanche can read the daily paper, the reams of articles she downloads from her desktop computer, and her favorite periodicals, like Kiplinger's, which give her the latest business trends. In her office (also known as Leigh's former bedroom), Blanche has a computer, two screens, and all the necessary software so that her emails are read aloud. She has no problem sending an email back in response. Blanche can still type with the speed and accuracy she had when she was working.
There is no limited to Blanche's resourcefulness. Her appetite for learning is insatiable. In addition to the local library, Blanche regularly borrows audio books from the Perkins School for the Blind and downloads hundreds of other books from the National Library system.
"I like to learn but I'm never learning enough. As long as we are on this earth, we should be learning and doing what we can [to make the world a better place].
Is there anything in Blanche's life that she wishes she could have changed? She doesn't hesitate to reflect on her limited college options. Had she been born a few decades later, she might have by-passed the two-year junior college route and graduated from a four-year MBA program. When I remark that she would have been an impressive CEO, Blanche grins broadly.
But that just wasn't meant to be. Blanche quickly knocks on the kitchen table for good luck. Rather than dwell on missed opportunities, she expresses gratitude that her son has had a successful business career!