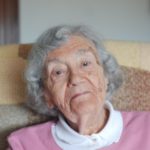 Molly sits in a comfortable chair in her Boston-area apartment as she tells the riveting story of her immigration to America. In 1938, at the age of 18, Molly sailed on her own from Heidelberg Germany.
As she recounts the journey, she shrugs at any mention of bravery. She says only that she was lucky. Luck was certainly a factor for anyone leaving Europe during the tumult of World War II. But Molly also describes a staggering amount of foresight and drive that enabled her to arrive in places unattainable by luck alone.
For several years before emigrating, Molly was determined to "learn practical things." At a young age, she sensed the chaos brewing. As the eldest child in her family, she knew that she was likely to be the first to leave home. She wanted skills so that she could fend for herself. While her parents and others deliberated about next steps, Molly was already putting her plans into motion.
She first worked in a hotel to learn cooking and housekeeping. She then worked for a dressmaker to learn pattern making and dress designing. She honed her language skills in English and French. When she exhausted the training opportunities in Heidelberg, she left her hometown for the big city.
"I went to Berlin in 1937. I loved it. It was a large, exciting place. It wasn't Heidelberg where everyone knew everyone's business. I felt invisible and happy."
 When asked whether she found it intimidating to be a Jewish teen alone in this Nazi hub, she shakes her head.
"I was fine. I never hid the fact that I was Jewish. Every Friday night, I even found a different temple. Nobody bothered me."
But it was also disconcerting.
"As a Jew, I was now stateless. I was no longer considered a German citizen. At the end of each week, I had to check in with the Berlin police to get permission to stay another seven days."
After several months, Molly returned to Heidelberg. She sought a way to leave Germany for good. Here's where the luck that Molly cited took center stage. Her grandfather had a dear friend from Heidelberg. Molly referred to him as Grandpa Keller. He had successfully moved his entire family to New York, and he was positioned to help Molly do the same.
Grandpa Keller's daughter was in Brooklyn, awaiting the birth of her first child. She was in need of extra hands to help run the household. Molly was well suited for the work.
Molly traveled to Stuttgart to get the affidavit necessary to emigrate from Germany. She boarded a ship in Le Havre, France and sailed to New York City.
Years later, Molly discovered why Grandpa Keller so graciously helped her.
"I was a little girl when I first met him. I was excited to show him my shoes. They had just been resoled. That left an impression on Grandpa Keller. He said that any child who was so enthusiastic about new soles had to be a pretty good kid."
Molly arrived in New York City with $3 in her pocket. Grandpa Keller was at the dock to greet her and to supply her with the essentials: a few additional dollars, a safe place to live, and a hand-drawn map of the subway system so that Molly could discover how easy it was to navigate her new city.
Molly spent four years with the Kellers, helping to raise the baby boy. The ties that were made almost 80 years ago continue today. Molly remains in contact with the grandchildren of the man whose birth made it possible for her to leave Europe for a fresh start.
When Molly was ready to start her career, she entered a nursing program at Jewish Hospital in Brooklyn. For a mere $35, she received the necessary training along with room and board at the hospital.
As the US entered the war, Molly had three choices. She could use her nursing skills in the Army or Navy, or become a public health nurse. She chose the latter and enjoyed many wonderful years in this profession. Molly made home visits all over New York, helping a bulging immigrant population become settled in their unfamiliar, teeming city.
Soon after Molly arrived in America, the Kellers generously helped secure funds to bring Molly's mother and brother to Brooklyn. Molly has beautiful memories of their reunion. She had missed her mother terribly. It was a huge relief to no longer be an ocean apart.
It was also a joy to re-establish her cherished relationship with her brother Heinrich. Sadly, this bond was cut short. Four years after arriving in New York, Heinrich was drafted into the US army. Molly's eyes fill with tears as she recalls how he tragically died in battle soon after arriving in France.
Molly's life in Brooklyn was full. It had wonderful aspects, like her opportunity to raise her two children and flourish in her career. It also had painful lows, like the untimely death of her daughter. Molly chooses to say little about this except "enough, enough". Like the loss of her mother and her brother, these memories are hugely painful. She doesn't have the energy today to wrap herself in these unhappy memories.
When Molly was in her late 80s, she decided that it was time to leave her beloved Brooklyn. It was a decision that she and her son reached together. She moved into senior housing in the Boston area, just a few miles from where he and his family live.
Molly finds life at 96 is far from optimal. Her eyesight is slipping. While there are many people in her building that she admires, she stops short when asked if she has made new friendships.
"People are nice but it's not like the friends I used to have. People here seem to hold back. We don't take the time to really step into one another's life."
 Molly has spoken openly with her son and daughter-in-law about her end of life preferences. If she faces a medical crisis, she has no interest in any intervention.
"If I'm sick, I told them that they should just call hospice. Why not? Most of my friends have died. The one in a nursing home doesn't have any idea who I am."
 The alternative is unappealing.
 "It's depressing to watch people deteriorate. I don't want that to happen to me."
Before there's an opportunity to challenge her thinking, Molly signals that she has given this considerable thought.
"It's enough already. I'll be OK. I've lived a good life."
Susan D. Goodman
Acting Our Age: Women's Lives at 85+