When I mention to folks that I recently interviewed an 89-year-old woman who is in love, the reactions have been interesting. One woma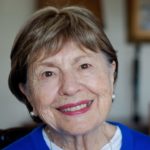 n stared at me. "You don't mean 'love love' do you?" she said with a mix of doubt and scorn in her voice. Another responded quite differently. Her face brightened at the thought. "Ah," she said, gently tapping her chest. "That really warms the heart."
Within minutes of meeting June, I was drawn to her bubbly personality. She lives her passions. Music and dance dominate her weekly schedule. When she's not conducting the local senior orchestra, she's likely to be floating with a partner across a ballroom floor.
It didn't take long for me to suspect that there was additional passion in her life.
June is head-over-heels in love.
By the joy she exudes, I assumed she was enjoying the novelty of a new romance. In fact, this relationship started more than six years ago. It is also not her first time being in love. June was widowed twice. June's beau, who is 92, has also outlived two spouses.
Does an octogenarian in love look different from a smitten teen? Not to my eyes. June lights up when she speaks about her partner (and she mentions him often). I'd call her overall demeanor giddy.
Responding to the question of whether she is saddened that this relationship started so late in her life, June says "No!"
It's just perfect as it is. Our previous life experiences brought us to together not a minute too soon or a minute too late.
June has had some health issues in the recent past that are thankfully resolved. Her focus now is on her beau's well-being.
I've always eaten right, and now we both do. We're down to just two meals a day. I do whatever I can to keep him healthy.
As June and I begin to wind down our conversation, her significant other arrives for a visit. The timing is just right. Despite their hospitality, I sensed that 'third-wheel' feeling so I gather my things and make my exit. The couple has a steady lunch date on Thursdays, and they are rearing to go.