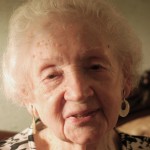 The only thing that seems to surprise Anastasia about being 101 is the reaction she receives.
"Everyone says 'get out of here.' No one believes me when I tell them how old I am!"
I admit to being among the non-believers. Anastasia seems to be unflappable about her age, and just about everything else.
It is an understatement to say that Anastasia has had a full life. She has authored several books. The first, "The Dream of Christmas Eve", was published in 1937 by St. Anthony's Guild Press.. It was such a hit that it was reissued on its 50th anniversary in 1987.
in high school, Anastasia explored "the spoken word." She wrote her first drama while in college. Soon after she graduated, she began to write character sketches, launching her career as a monologist.
In the 1950s, Boston's WBZ television channel had a daily show called "Swan Boat," named for the Boston Public Garden's beloved attraction. Anastasia was the show's most frequent guests. One favorite sketch was a character called "Spring Sunshine," a humorously dour old woman who saw the worst in everything. Anastasia created each one of the many sketches she performed. Her gift for developing a variety of personalities continues today.
"My head is like a piñata. If you tapped it, it wouldn't be candy that falls out. It would be the different characters in my mind."
The list of accomplishments continues and is undoubtedly incomplete. I had to resort to Google to discover that she had received an honorary doctorate of humane letters from her alma mater Emmanuel College. Throughout our 90-minute conversation, Anastasia continued to add other achievements to the inventory. Her intention was not to boast about the richness of her life but to give the most accurate picture.
Clearly a high point in her life occurred during World War II. The American Red Cross recruited Anastasia to become the assistant director of the Wartime Blood Donor Center of Boston. She was the perfect candidate for the position.
Injured US soldiers in Europe and the Pacific relied on blood donations from people back home. It was Anastasia's job to encourage people to build up the blood banks. She utilized her magnetic stage presence to reach out to hundreds of groups.
Anastasia's Red Cross tenure was a very pivotal time in her life. She found that serving as the organization's spokesperson was a wonderful way to play a vital role in the war effort. It also provided an introduction to her husband, Lt. Henry W. Lundquist, USNR, radio officer of the Public Relations Office of the First Naval District and blood donor officer for the headquarters.
Additionally, her Red Cross experience provided a foundation for a book that she and Henry co-authored. Out for Blood: The Pursuit of Life for the Wounded on the Fighting Fronts of World War II cited first-person accounts from front line soldiers who were injured in battle and recovered with blood transfusions from the US. Unfortunately, the book was not completed prior to Henry's death in 2003. Undaunted, Anastasia finished the manuscript and, in 2014, it was published.
Henry and Anastasia were inspired to write this book after reading Tom Brokaw's The Greatest Generation.
"We were so surprised to find that his book didn't include any reference to the massive blood donation drive that extended throughout the war. To us, Brokaw had left out the 'greatest gift' that "the greatest generation" ever made. It gave the people back home an important way to help the war effort. We thought it was a story that needed to be told."
Many might consider the accomplishment of publishing a book at age 100 to be the culmination of a career. But Anastasia's creative juices still flow with vigor. She is currently writing two books:  a novel and a Christmas how-to book.
Towards the end of our conversation, I asked Anastasia if she considered herself to be an optimist. In response, she asked her daughter Marilyn to join us in the living room.  She posed the question to Marilyn, and she relayed that Anastasia had recently announced her intention to publish the novel by 2019.
Let's see: a 101-year-old woman planning to complete a project at age 105? Yes, that certainly fits my definition of an optimist!!