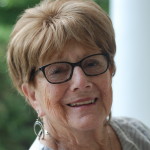 I met Enid at her home in Brookline MA on a snowy afternoon. Record-setting storms had walloped the region for four straight weeks. Earlier that day, Enid had spent the morning walking to and from her town center — a two-mile trek — that was made more challenging by towering snow banks and impassable walkways. I was curious to discover why Enid would leave the warmth of her home. The reason speaks volumes about her extraordinary range of interest. Her weekly film club met that morning, and she was eager to see the Spanish Civil War films that her discussion leader had selected.
 After Enid and I had met for nearly three hours to explore her life accomplishments and perspectives, she hurried off to pick up a friend and head to an evening of theater. I marveled at her energy. I, on the other hand, headed home for a nap on my couch!
___________________________________________
Enid grew up at a time when it was every young woman's goal to become a housewife. She followed suit, marrying Mel when she was in her early 20s. With three children to raise, life was busy. She always made as much time as possible to delve into important local causes.
Once the kids were in high school, Enid decided that she wanted something more. Actually, she credits Mel for first recognizing that she had an appetite for impacting social justice that extended beyond her volunteer work.
Mel expected me to do something with my life. He challenged me to think. I would probably have been content being a housewife if he hadn't pushed me.
 Enid hesitates for a moment as she thinks about whether there is much truth to that statement. With a laugh, she says:
Well, really, I'm quite sure that I would not have been that content!"
Enid enrolled at Simmons College. Six years later, at age 40, she earned her Masters of Social Work degree. For the next three decades, she worked as a community social worker in Chelsea, Cambridge and Roxbury. It was an ideal fit for someone who loves challenges and is compelled to make the world a better place. But it was the early 70s and few women her age were entering the workforce.
When I went to work there were hardly any other married women. My mother told me not to tell anyone that I was employed. She thought people would believe that I needed a job because Mel wasn't doing well!"
 Enid was comfortable to challenge the norm. She found her professional life so satisfying that she yearns to return.
I'm happiest when I'm working on a problem that needs attention. I had the most wonderful career [doing social work in underserved communities]. In fact, I really need another job now!"
While she is fully aware that at age 90 she is unlikely to be hired, her sentiments are genuine. For the past 20 years since she's retired, she has continued to lend her voice and her talents to the many causes she deems as worthwhile. She has served on the Board or as a committee member of a list of organizations that reads like a "Who's Who" of Boston's most important non-profits.
She is radiant as she shares a compliment she recently received from a dear friend.
She said, 'Enid, you truly have done something with your life!' 
 Asked how she views her life at 90, she shrugs.
I have always been 'almost' some age. It feels different being 90. It feels kind of permanent. I don't feel mentally stuck, but I've become more anxious physically. I move more carefully now because I don't want to fall."
if Enid is slowing her pace, it's not apparent to anyone else. She's practically breathless describing her activities for the upcoming month. She defies any stereotypes about older people who are resistant to living fully.
I love new things. I love change.
 As soon as she says this, Enid revises her statement.
Actually I don't love technology. But it's here to stay so I've pushed myself to learn how to use the computer.
Many of Enid's closest friends are 30 years her junior. It's a minor inconvenience that some are still in the workforce and unavailable to spend more time together. But rather than wait around, Enid doesn't waste time. There is always a new adventure to pursue.
Even at 90, Enid does not experience life from the sidelines.
Concerned about the lack of interfaith dialogue, Enid recently joined a group of Muslim, Protestant and Jewish women. The participants, the majority of whom are decades younger than Enid, gather monthly simply to build relationships with those outside their usual circles. There are easier ways to learn about religious differences. Enid could read a book or attend a presentation at her synagogue. Instead, she chooses to join a group that is modeling what many in the world should do: make an effort to turn strangers into friends.
As Enid and I draw our conversation to a close, she casually mentions that she is about to leave for China in a week. She scheduled to go on an intimate tour with just 15 others. It's not her first trip to Asia, but she loves to revisit favorite locations. She is wrestling with a minor hurdle, however. She has had a few tough weeks adjusting to a new cancer regime and her doctor has not yet given her a green light for travel. But she's not overly concerned. After all, she has been down this road before. She has been battling the disease for the past 20 years and, so far, it hasn't stopped her from living life her way.
(Update: Enid did not get her doctors' OK to go to China, but they agreed that travel to a closer destination was possible. She was disappointed but not immobilized. Enid revamped her plans, headed to Europe, and reports that she enjoyed herself immensely!)