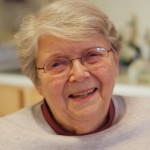 "I know that I am living, and that makes me happy."
Joanne's life is a work in progress. In an energized, booming voice, this 87- year- old woman has a myriad of stories about a life filled with change and growth. And as she tells her backstory, the words "grateful" and "blessed" are frequently used.
When Joanne describes a past brimming with music, family and activity, it becomes evident why she is so happy to be who she is today (single) and where she is today (in a quiet apartment where she can call the shots).
She lives in affordable senior housing that caters to those who cherish their privacy. The front door of each of the units leads directly outdoors: there is no lobby or shared space to cross. You meet your neighbors only with a concerted effort.
Joanne likes it just this way.
There were many joys in Joanne's life – playing jazz piano and conducting Sweet Adeline choral groups – and considerable chaos. Her husband Don's job forced the family to relocate so often that Joanne stopped taking the time to settle into a new community. Why bother when the next move was imminent.
Increasingly, there were problems in the marriage. Emboldened by the writing of Betty Friedan and others, Joanne took the risk and walked away. She divorced her husband and made a fresh start in a new city. Six years later, when the couple realized that they were missing one another, she and Don reunited, remarried and lived harmoniously for the next 14 years until his death from emphysema.
"My reasons for returning to the marriage were based largely on our continued devotion to each other and my determination to be the one to nurse him at the end of his life. Just imaging someone else in that role was more than my heart could tolerate."
Having survived the various storms of her past, today Joanne lives life on her terms. She has all the components in place that she needs to be happy. A few years back, when music no longer sustained her interest, she poured that fervor into a new passion: reading American history.
"I was born in 1928. That means, except for the first 28 years, I've lived through the entire 20th century. I want to know everything about it."
When Joanne describes a guilty pleasure, she's talking about staying up until the wee hours of the morning sitting in her favorite chair reading history!
Joanne thrives on several core relationships that enable her to remain, as she describes it:
"In step with life."
Locally, she is very attached to special friends at her church. She is so appreciated by her nearby daughter and friends that she is often invited to join their get-togethers. She is beholden to her telephone for bringing her closer to her loving network of out-of-town friends and family, including her other daughter and her son.
Joanne also uses technology to stay in touch. Decades ago, after making the decision that technology would not sideline her, Joanne surrounded herself with "how to" books and it has paid off:
"My nieces all think I'm pretty cool because I'm on Facebook!"
Joanne speaks openly about what it takes to maintain a level of contentment.
"[I work hard to] overcome the desire to just sit and do nothing – and it runs deep. Our bodies are so tired. I have to talk to myself and crack the whip [so I don't get complacent]. 'Go away…don't mess with my peace of mind. I have no more time for you."