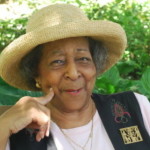 "I know that I cannot relive my life. When you are old, you have to find your place."
Four years ago, Janice moved to Brookline from her home in Amherst, MA to eliminate the 80 miles that separated her from her family. Now, she is within walking distance of her daughter Jennifer and eight-year-old grandson Jaden.
There are some invaluable benefits. She can ease Jennifer's hectic schedule by providing backup childcare. She can enrich Jaden's life – and her own – by spending time together.
But Janice gave up a lot when she moved away from a community that, for 50 years, was her home. When she left Amherst, she also left her charming house, an endearing group of friends, and a car that enabled her to enjoy a sense of boundless possibilities.
"These days I find myself asking whether I am lonely or just alone. There is something missing and I don't know what it is."
It has been a challenging transition. Janice is now in independent senior housing in an urban setting. Her world has become smaller now that she no longer drives. It is not something she yearns for – the chaotic streets of Boston are a far cry from the quiet roads in Amherst – but it means that she must restrict her daily life to locations within walking distance. She has met many of her neighbors but they only know one another from a limited perspective. No one knows Janice's history, and it is unlikely at this stage of life that anyone will.
Janice knows that staying active is essential to her physical and emotional health. She fills her days with her favorite activities: volunteering at the town's senior center, participating in a weekly current events group, stopping in at her favorite donut shop, and playing Rummy-Q three nights each week with neighbors. Increasingly, her calendar is crowded with doctor, dental and physical therapy appointments.
And, certainly, being a grandparent has become a central part of Janice's life. It extends beyond merely spending time with Jaden or providing childcare when there is a gap in his schedule. Janice understands that she has a duty to fulfill as the matriarch of the family.
"I am the oldest living person in my mother's family. My younger brother and I never knew anything about my grandparents or great grandparents. It will be different for my grandson. Jaden will know that he had a Nana."
 Janice wants Jaden to know the richness of his heritage. She is deliberate about the books and objects she has on her apartment walls and shelves. Among these is a growing collection of US postage stamps issued in recognition of Black History month. The stamps include well-known pioneers – Harriet Tubman, Rosa Parks and Martin Luther King, Jr. – as well as lesser known men and women. She wants Jaden to appreciate their contributions, and she intends to be there so that they can discover this history together.
_______________________________